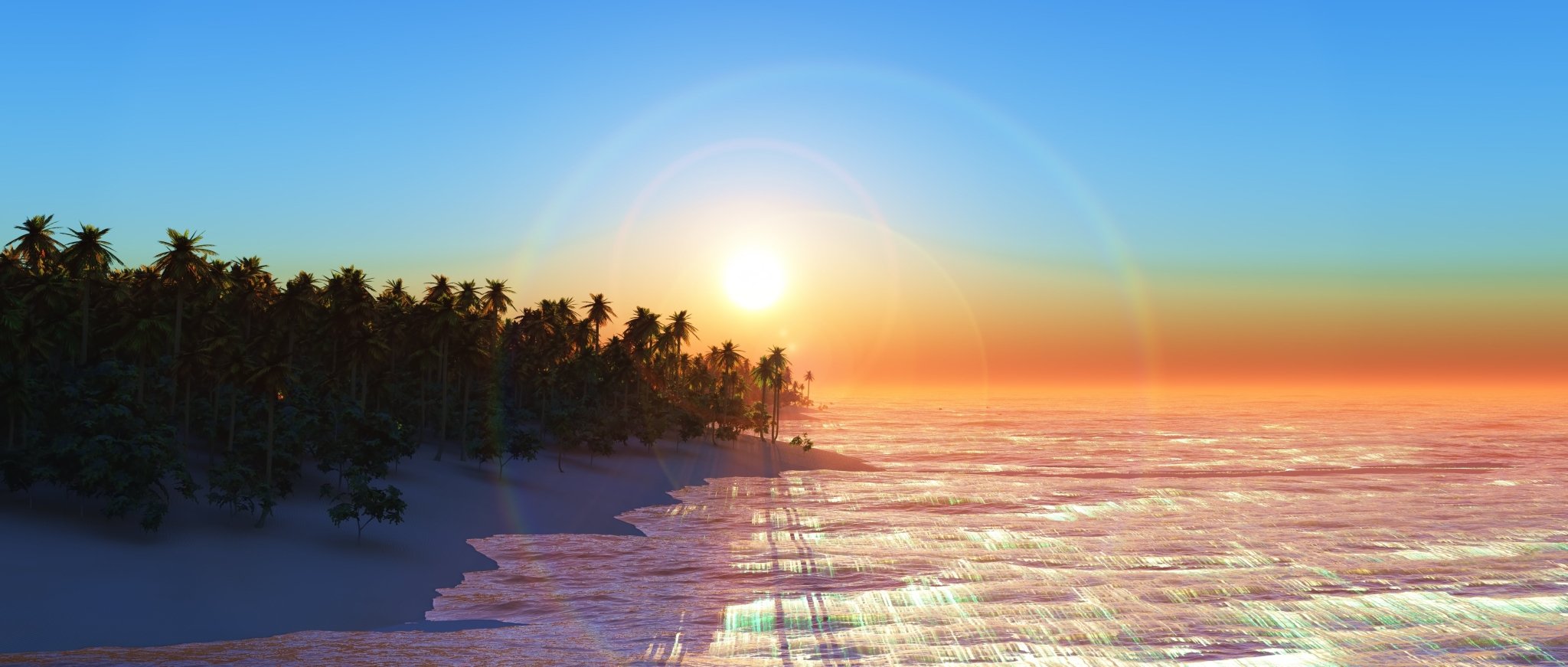 Infrared therapy - the healing power of sunlight
What is infrared light?
Infrared light is an invisible part of the spectrum of sunlight . and, together with visible red light, accounts for about 50% of the sun's radiant energy . Due to its special wavelengths , it influences life on our planet. This process is inescapably important for the health and growth of humans, animals and plants .
How does infrared light affect our body?
When infrared radiation hits tissue, molecules vibrate . Due to the generated heat, there is an inevitable rise in temperature. Infrared radiation can promote local blood circulation while reducing muscle tension . Infrared radiation is traditionally used in medicine, among other things, to relieve muscle pain and tension , as well as to treat autoimmune diseases or wound healing disorders .
Infrared light is used therapeutically:
Reduces edema, inflammation and chronic joint diseases.
promotes the healing of wounds in deeper tissues and nerves
for pain, tension and neurological disorders.
Heavy metal detoxification, eliminates viruses and bacteria.
preventively, infrared light strengthens the immune system.
26 studies prove noticeable effects of infrared light
Tafur, J., & Mills, PJ (2008). Low-intensity light therapy: exploring the role of redox mechanisms. Photomedicine and laser surgery, 26(4), 323-328. https://doi.org/10.21037/atm.2019.01.43

Chung H, Dai T, Sharma SK et al. The Nuts and Bolts of Low-level Laser (Light) Therapy. Ann Biomed Eng 40, 516-533 (2012). https://doi.org/10.1007/s10439-011-0454-7

Hsu, WL, & Yoshioka, T. (2015). Role of TRP channels in the induction of heat shock proteins (Hsps) by heating skin. Biophysics (Nagoya-shi, Japan), 11, 25-32. https://doi.org/10.2142/biophysics.11.25
Hamblin MR (2017). Mechanisms and applications of the anti-inflammatory effects of photobiomodulation. AIMS biophysics, 4(3), 337-361. https://doi.org/10.3934/biophy.2017.3.337
Matsushita K, Masuda A, & Tei C (2008). Efficacy of Waon therapy for fibromyalgia. Internal medicine (Tokyo, Japan), 47(16), 1473-1476. https://doi.org/10.2169/internalmedicine.47.1054
Li K, Zhang Z, Liu NF, Feng SQ, Tong Y, Zhang JF, Constantinides J, Lazzeri D, Grassetti L, Nicoli F, & Zhang, YX (2017). Efficacy and safety of far infrared radiation in lymphedema treatment: clinical evaluation and laboratory analysis. Lasers in medical science, 32(3), 485-494. https://doi.org/10.1007/s10103-016-2135-0
Maiello M, Losiewicz OM, Bui E, Spera V, Hamblin MR, Marques L, & Cassano P (2019). Transcranial Photobiomodulation with Near-Infrared Light for Generalized Anxiety Disorder: A Pilot Study. Photobiomodulation, photomedicine, and laser surgery, 37(10), 644-650. https://doi.org/10.1089/photob.2019.4677
Podstawski R, Borysławski K, Clark C, Choszcz D, Finn KJ, & Gronek P (2019). Correlations between Repeated Use of Dry Sauna for 4 x 10 Minutes, Physiological Parameters, Anthropometric Features, and Body Composition in Young Sedentary and Overweight Men: Health Implications. BioMed research international, 2019, 7535140. https://doi.org/10.1155/2019/7535140
Beever R (2009). Far-infrared saunas for treatment of cardiovascular risk factors: summary of published evidence. Canadian family physician Medecin de famille canadien, 55(7), 691-696.
Hwang SG, Hong JK, Sharma A, Pollack GH, & Bahng G (2018). Exclusion zone and heterogeneous water structure at ambient temperature. PloS one, 13(4), e0195057. https://doi.org/10.1371/journal.pone.0195057
Laukkanen T, Khan H, Zaccardi F, & Laukkanen JA (2015). Association between sauna bathing and fatal cardiovascular and all-cause mortality events. JAMA internal medicine, 175(4), 542-548. https://doi.org/10.1001/jamainternmed.2014.8187
Sears, ME, Kerr, KJ, & Bray, RI (2012). Arsenic, cadmium, lead, and mercury in sweat: a systematic review. Journal of environmental and public health, 2012, 184745. https://doi.org/10.1155/2012/184745
Avni D, Levkovitz S, Maltz L, & Oron U (2005). Protection of skeletal muscles from ischemic injury: low-level laser therapy increases antioxidant activity. Photomedicine and laser surgery, 23(3), 273-277. https://doi.org/10.1089/pho.2005.23.273
Selsby JT, Rother S, Tsuda S, Pracash O, Quindry J, & Dodd SL (2007). Intermittent hyperthermia enhances skeletal muscle regrowth and attenuates oxidative damage following reloading. Journal of applied physiology (Bethesda, Md.: 1985), 102(4), 1702-1707. https://doi.org/10.1152/japplphysiol.00722.2006
Morita, T., & Tokura, H. (1996). Effects of lights of different color temperature on the nocturnal changes in core temperature and melatonin in humans. Applied human science : journal of physiological anthropology, 15(5), 243-246. https://doi.org/10.2114/jpa.15.243
Scoon, GS, Hopkins, WG, Mayhew, S, & Cotter, JD (2007). Effect of post-exercise sauna bathing on the endurance performance of competitive male runners. Journal of science and medicine in sport, 10(4), 259-262. https://doi.org/10.1016/j.jsams.2006.06.009
Tadakuma T. (1993). Possible application of the laser in immunobiology. The Keio journal of medicine, 42(4), 180-182. https://doi.org/10.2302/kjm.42.180
Bornstein E, Hermans W, Gridley S, & Manni J (2009). Near-infrared photoinactivation of bacteria and fungi at physiologic temperatures. Photochemistry and photobiology, 85(6), 1364-1374. https://doi.org/10.1111/j.1751-1097.2009.00615.x
Hiroshi Ohko, Yasunori Umemoto, Yuta Sakurai, Shouhei Araki, Daisuke Kojima, Yoshiichiro Kamijo, Kota Murai, Yoshinori Yasuoka & Fumihiro Tajima (2021) The effects of endurance exercise combined with high-temperature head-out water immersion on serum concentration of brain- derived neurotrophic factor in healthy young men, International Journal of Hyperthermia, 38:1, 1077-1085, DOI: 10.1080/02656736.2021.1922761
Barolet, D., Christiaens, F., & Hamblin, MR (2016). Infrared and skin: Friend or foe. Journal of photochemistry and photobiology. B, Biology, 155, 78-85. https://doi.org/10.1016/j.jphotobiol.2015.12.014
Alfredo PP, Bjordal JM, Dreyer SH, Meneses SR, Zaguetti G, Ovanessian V, Fukuda TY, Junior WS, Lopes Martins RA, Casarotto RA, & Marques AP (2012). Efficacy of low level laser therapy associated with exercises in knee osteoarthritis: a randomized double-blind study. Clinical rehabilitation, 26(6), 523-533. https://doi.org/10.1177/0269215511425962
Gale, GD, Rothbart, PJ, & Li, Y (2006). Infrared therapy for chronic low back pain: a randomized, controlled trial. Pain research & management, 11(3), 193-196. https://doi.org/10.1155/2006/876920
Höfling, DB, Chavantes, MC, Juliano, AG, Cerri, GG, Knobel, M, Yoshimura, EM, & Chammas, MC (2013). Low-level laser in the treatment of patients with hypothyroidism induced by chronic autoimmune thyroiditis: a randomized, placebo-controlled clinical trial. Lasers in medical science, 28(3), 743-753. https://doi.org/10.1007/s10103-012-1129-9
Yeste M, Codony F, Estrada E, Lleonart M, Balash S, Peña A, Bonet S, & Rodríguez-Gil JE (2016). Specific LED-based red light photo-stimulation procedures improve overall sperm function and reproductive performance of boar ejaculates. Scientific reports, 6, 22569. https://doi.org/10.1038/srep22569
Wunsch, A., & Matuschka, K. (2014). A controlled trial to determine the efficacy of red and near-infrared light treatment in patient satisfaction, reduction of fine lines, wrinkles, skin roughness, and intradermal collagen density increase. Photomedicine and laser surgery, 32(2), 93-100. https://doi.org/10.1089/pho.2013.3616
Vatansever, F., & Hamblin, MR (2012). Far infrared radiation (FIR): its biological effects and medical applications. Photonics & lasers in medicine, 4, 255-266. https://doi.org/10.1515/plm-2012-0034
In this video, infrared therapy is explained again.
Reference:
Tafur, J., & Mills, PJ (2008). Low-intensity light therapy: exploring the role of redox mechanisms. Photomedicine and laser surgery, 26(4), 323-328. https://doi.org/10.1089/pho.2007.2184